Fibromyalgia; you are what you eat, right?
Well, not so simple, as those of us who live with this syndrome, know all too well.
If you are like me, one who has tried to cure herself of fibromyalgia (for 17+ years), you have tried almost every diet, almost every exercise type, breathing, meditation, medication, yoga, you may have tried as I have : no sugar, no dairy, no wheat, no gluten, no soy, no coffee, the NO Everything Life. Was it fun? NO.
Living with, and managing fibromyalgia can be a full-time job.
Acceptance isn't a one time thing, it's ongoing, as the symptoms with this syndrome change regularly, and daily, and even throughout the day. We never know what we are going to get.
What is fact about fibromyalgia? It's predictably unpredictable, and that's the only thing you can count on. Living in the unknown and with the unknowable, and accepting that, is key, I have learned and continue to learn.
(* Disclaimer : I am not a medical professional, consultant or expert. This is my own personal journal of thoughts and writings and I'm not providing any recommendations or medical advice. Please make sure you do what works for YOU only and only what is right and safe for you personally. I am just sharing my personal experience at this moment in  time.  Listen to your gut, smarts and heart, and, seek out the professional advice your physician, a medical expert, a registered nurse, a counsellor, psychologist, naturopathic physician, homeopath, your local hospital or otherwise. Thanks!)
So back to diet. Yes, I have pretty much tried it all, yet I never give up, and I keep on trying different things, and even going back to things that didn't work in past. Why go back to that which did not work before? Simple. Our bodies are in constant flux, ever-changing and ever-healing if we persist and remain open to a healing force. And why not try what didn't work in past? It might work this time, I think to myself.
Most recently, even though it was no fun in past nor initially, I have gone back to trying: no sugar, no wheat, no dairy, NO EGGS, minimal to no grains, and minimal fruits. Being a self-professed-fruit-a-holic, fruit was hard to give up.
(and yes, no to alcohol … I rarely drank anyway so that was easy) 
That's a lot to leave out.
What the heck am I eating?
Lots of vegetables, my only fruits are berries only for the most part, nuts and seeds, legumes and some meats in very tiny small amounts (I am not 100% vegan yet) and vegan protein powder. Drinks include coconut milk and almond milk.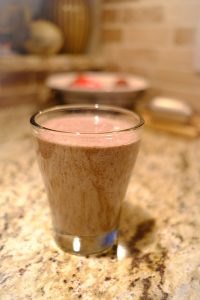 The key to every breakfast is a greens smoothie with mixed berries, lemon juice and a plant-based protein powder. Currently I am using Iron Vegan Sprouted Protein Powder and I LOVE it. For many many years prior, I was using a whey protein, Genuine Health Proteins+ and I loved it, but it was time for a change.
My current raw vegan protein powder has LESS protein than the whey product, by a lot; almost 10 grams protein less per serving (17 grams currently vs. 26 grams prior) however, so far I haven't suffered as a result, and it seems to be adequate for my current activity levels.
As a result of my strict food lifestyle, over the last couple of months I have reaped the benefits from my hard work on diet, with way less pain, less inflammation, feeling lighter inside, more fluidity in movement (not quite so stiff), ability to think more clearly, ability to complete mental tasks more easily, improved mood, not as much brain fibro-fog.
Am I cured of fibromyalgia? Not yet. However, I have been able to reduce pain medications significantly and I just FEEL BETTER. That is good enough for now. I am thrilled.
Immediate improvements were felt when I first removed eggs completely from my diet. Eggs hadn't agreed with me for many years prior, but it was an easy and quick meal and protein source, so I kept doing it. Note to Self and Others : if something swells up your stomach like a balloon right after you eat it, it cannot be good for you 🙂
(why do we, I, you, keep doing what we know isn't good for us? … have you asked yourself?)
Is it a bummer to have to give up SO much of everything that other "normal" people without fibromyaligia can have? NO, not really. It is my life, and I only get one of them to live, so for me, doing anything and everything to reduce suffering and physical pain, is my job, to make my life better, to be able to do more, and to enjoy this precious life we have been given.
To those out there who suffer, and to those who are at the beginning of their fibromyalgia diagnosis, my heart goes out to you, as I know what it is like to live with 24/7 disabling pain and fatigue. Never give up. Never give up. You are loved. You WILL get through this. Be gentle with yourself, rest as much as you can, and take one baby step at a time. Ignore those who do not understand, as only YOU know your pain levels and what you are able to do, day to day. Pace yourself, and keep on learning greater self-love … that is a lifelong journey, for us all.
And for those of us further along the healing journey? Help those who need us, when you are able. Share your wisdom, your love, encouragement and support. Let each of us not be alone with this fibro-thing.
Oh Nuts, yeah, sometimes you have to give up a lot to gain a lot to be healthy.
Always Love,
Brenda