Today, October 16th, is Day 1 of making myself accountable with my 5 Days 5 Seconds 5 Goals
Here are my 5+ goals for today and later I will post about how I did:
Make a call to someone (or issue) difficult to deal with (I have 4 of these on my to do list)
Make a call to someone beautiful and who is effortless to speak with
Return microphone that isn't the right one for me and select something else
Walk dog (that seems simple but when it's raining so much, I don't always want to)
Revise resume as a first draft
(bonus goal) Get outdoors and make at least one photo and publish online
WHY are phone calls on my list? Making phone calls has been painful and near impossible on some days in past. I wasn't always this way. Even phone calls to nice people. I am hoping that 5-4-3-2-1 will help me combat this paralyzing behaviour.
And in case you are suffering in silence too, with anxiety, and haven't yet discovered The 5 Second Rule, here's Mel Robbin's break down of the 5 elements of the 5 Second Rule: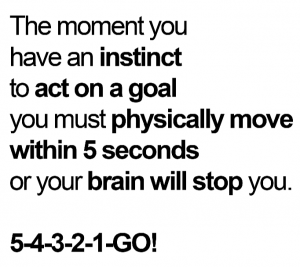 Anxiety can be managed. I am learning how.
Always Love,
Brenda
***
Evening Update : 8:04 P.M.
So how did I do?
Long story short, I spent many hours in my car, traveling down and back up the Island. All of my goals weren't reached. Hey, I'm all about the truth.
Goals achieved:
3. Yes! Done. Returned the microphone and avoided a total meltdown with a salesman who had every reason for why I should give the microphone more time. No is No. Now I am looking for a new microphone that is more me.
4. Yes! Done. No brainer? Walk the dog? Not always. When it's pelting down buckets of rain, sometimes it's hard to get out there. Even the dog didn't want to go (photos below) but we went! 5-4-3-2-1!
6. Yes, done, took a few photos and posted to Instagram. It's not about perfection, but making the art no matter what.
So what next?
I'll transfer goals 1, 2 and 5 to tomorrow and begin again. That's the great thing about life. We get a chance to try again.
And what did I learn?
No beating self up. Stuff happens. Life happens. Plans change. Fear kicks in harder than before. And on a more humorous note? I'm not sure I recommend making yourself accountable in public! lol. It's more stressful, but I'm in the midst now and will complete my 5 days.
Next? Try again. And never give up trying.
Good night. ??
Brenda