Klout and Why Does It Matter?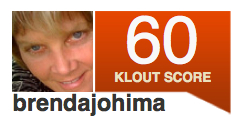 I learned a fair amount about Klout from Megan Berry at the Social Media Camp conference in Victoria on October 3rd, 2010, but still have a lot to learn and a long ways to go.
However, for starters, I am thrilled with my Klout score.
This just goes to show you that:
Social Media is NOT about the numbers
Social Media is NOT about the number of followers you have on Twitter
Social Media is NOT about the  number of friends you have on FaceBook
Social Media is NOT about the number of fans you have on your FaceBook Page for Business
There are loads of people with WAY more online friends and fans than me. And I'm 100% OK with that. From day one, I have chosen to focus on the people, honesty, integrity, and "real" connections, the same things that matter to me in my life online. You won't (currently) find people on my FaceBook friend list that I don't trust, like and love.
So back to Klout.
What Klout has taught me, is that what I believe, and how I try to live my life offline, does matter when it comes to measuring online influence and engagement, and is a direct reflection on my Klout score. It's NOT about the numbers of people, it's about quality interactions and genuine caring and helping others.
Everything I learned from my initial training as a Music Therapist, and all past training in communication skills, and in counselling and therapy techniques, works in Social Media.
It's about the people. It's about the relationships. It's about communication skills. It's about thinking and caring about others FIRST. (think Dale Carnegie) It's about being curious about others FIRST. And I like that!
I have said it before, and you will find it written online all over the internet … social media … its' about the people 🙂 However, too many people are still trying to SELL instead of interact.
Care first, reach out to others first, help other people first, and make a difference by connecting first, INSTEAD of selling first. Try it, you just might like it.
So why does Klout matter? For me, because people matter to me. Klout gives me a good indication on how well I am doing in connecting with people online. It shows me if I am coming from the right place (for me). That's it.
And, they (Klout) have already, and are, rolling out some pretty awesome programs also, where your Klout will make a difference in real world applications (whether you think this is good or bad, it's too late, it's already happening) for example, like booking a hotel room or flight, or getting an upgrade in your hotel room based on your Klout score when you arrive at your hotel. You can read it right here: Need a hotel reservation?
Now THAT is food for thought. What do you think? Love to hear your thoughts. I'm @brendajohima on Twitter. Let's chat, let's care, let's make a difference. Together.
~ Brenda Johima ~
P.S. The other thing I learned about Klout? You can't trick Klout. And, if you start competing with others to try to get a better Klout score than them? Well guess what? One, You Can't. Two, You've just missed the whole point of Social Media, especially Twitter.
Twitter Tip: Focus instead on asking questions, focus on others first. Send people on Twitter an @reply to say Hello. Introduce yourself. Acknowledge the successes someone has online PUBLICLY, not in a private email, or hidden direct message
The Good News: What is Social Media doing that is good for our world? It's forcing people to be kinder, more encouraging, more positive, and to motivate, encourage and inspire. So get out there, be part of the solution.