*** Please note the change in the NEW date for submissions to be received below. You have more time! … and time is running out! Looking forward to receiving your print submissions. Please read below:
Entries must be RECEIVED no later than Monday, April 16th, 2012.
Please join me in Victoria B.C., during Earth Week 2012 to celebrate everything good for the planet, with like-minded artists and creatives at the Creatively United for the Planet Festival.
What's my part in it all other than to enjoy 3 days of incredible creativity, speakers and performers at a First of it's kind Festival? Well, something super exciting!
One, I'll be a speaker, sharing my passion for iPhoneography.
Two, I've initiated, instigated and am coordinating the 1st ever Mobile Phone Photo-Art Show for the Creatively United for the Planet Festival!
I welcome you to contact me with any questions, and please do, submit your images! This concept, I proposed many months ago but only have 4 weeks to pull it off! … and … it's exciting that we are now at the point to make it a reality. I've been inspired by Mobile Phone and iPhoneography photo shows that have already being done around the globe in many major city centres. It's very exciting to have this movement now happening on Vancouver Island!

In order to make this event inclusive of everyone, and for all ages, and to have a greater reach for increasing awareness for the environment, we decided to open it up, not only to iPhone cameras, but to all cell phone cameras. My dream is to have photos coming in from not only locals, but from all over the world … yes, it's now a very short time frame … you only have 4 weeks from today! Sooooo, GO!
Below is the "official" blurb for the iPhoneography and Mobile Phone Photo-Art Show. In addition, please do click on the links and Creatively United logo below, to visit the website, support the Festival, attend many of the free events, and purchase tickets to hear and see some amazing keynote speakers and performers such as International Conservation Photographer Garth Lenz, and Ann Mortifee who has received the Order of Canada and has traveled the globe as a keynote speaker. singer and performance artist, the legendary world renowned flutist, Paul Horn, Shivon Robinshong and the Gettin' Higher Choir, and wildlife artist and environmentalist, Robert Bateman, to name only a few.
I'm also honored to work (as a volunteer for this festival) in the company of award winning Professional Photographer Frances Litman (MPA, Master of Photographic Arts), who is the Founder and Creative Director of the Festival … and a BIG thank you to Frances for saying YES, to include a mobile phone photo-art show component to the festival.
There is a brilliant and committed core group of volunteers working tirelessly to pull together a world-class-talent event to benefit environmental charities, right here on Vancouver Island. There's a multitude of free community sessions for you to attend, as well as ticketed (pay a fee) sessions that include a stellar lineup of performers, speakers, facilitators, musicians, visual artists and more FUN!
(P.S. Do you want to volunteer during this April 20-22 Earth Week festival?)
I support the success of this Festival and think it's time that Vancouver Island lead the way with environmental initiatives through the powerful voice of creatives and artists. This is a festival is not to be missed!
So here we go … Please celebrate with me by submitting and sharing your cell phone art, and help us increase awareness of the fragility of our environment … showcase the beauty of nature and be … "Inspired By Nature."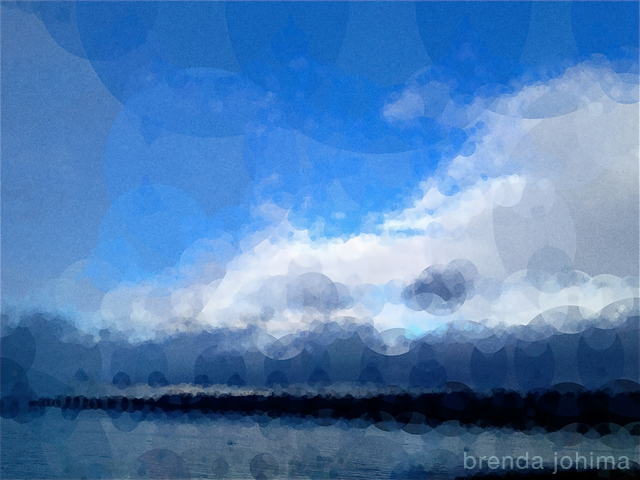 Photography Copyright 2012 Brenda Johima
(image captured and post-processed using only an iPhone 4s)
Creatively United Mobile Phone Photo-Art Show (with Brenda Johima)
We're celebrating nature with a collaborative exhibit of iPhone Photography (iPhoneography), Mobile Phone Photography and the Phone Arts, using only camera phones as the medium for creative expression!
If you have any questions about the photo-art show, please contact Brenda Johima directly, by telephone at 1.250.335.1195 or via email at CUphoneart@gmail.com
Creatively United PHOTO SUBMISSION AND PARTICIPATION INSTRUCTIONS:

THEME
"Inspired by Nature"
PRINTED IMAGES
There is a maximum of 4 images per participant. Each submission must be in print format, submitted at a maximum final print size of 5X7. (or 7×7 square format)
DIGITAL IMAGES
Each printed image submission must be accompanied by a 640px X 480px digital image to be emailed to Brenda Johima at CUphoneart@gmail.com
Please label your digital submission with your last name at the beginning of the file name. For example : JOHIMA_IMG_0566
Please use the email subject line "Mobile Phone Photo-Art Show" for your submission(s)
By submitting your images you are agreeing that the photos may be used on the Creatively United For The Planet website and on social networks to promote the festival (with photographer credit attached)
POST-PROCESSING
All post-processing of the original image must be done in-camera (in-phone)
Camera phone apps are permitted however, no external image editing software programs such as Photoshop, etc. may be used.
SUBMISSION INFO
Please include a self-addressed, stamped envelope along with your payment.
Submissions with insufficient entry fees, postage or missing information for their delivery will not be considered or returned.
DEADLINE FOR SUBMISSIONS
Entries must be RECEIVED no later than Monday, April 16th, 2012.
All submissions must include a self-addressed stamped envelope including the participant's full name, mailing address, postal code, phone number and email address.
You may include your Twitter @ profile and Facebook profile or page if you wish to be connected there as well.
We reserve the right to decline any submission at our discretion and any fees paid are non-refundable.
DISPLAY AT THE FESTIVAL
Entries will be on display in St. Matthias Hall (600 Richmond Road, Victoria, B.C.) during the Creatively United for the Planet Festival, from 7 pm Friday April 20th to 6 pm Sunday April 22nd, 2012.
We will not be responsible for loss or damage.
IMAGE OWNERSHIP/PUBLICATION
Participants must be the original copyright owner of the images submitted and have necessary model releases if required. You retain copyright of your image, however, images may be used to promote the Creatively United Festival and/or be posted to social networks.
By submitting, you are agreeing for your image(s) (if selected) to be used by Creatively United For The Planet and its affiliates for promotional purposes.
Creatively United reserves the right to publish the images (with photographer credit) on the Creatively United For The Planet Festival website and Facebook page(s)
HOW TO SUBMIT YOUR WORK
Entries will be mailed directly to:Creatively United for the Planet
c/o 474 Nelson Street, Victoria B.C., V9A 6P4
Please include the following with your submission:
Name: First and Last
Mailing Address (including postal code):
Phone:
Email:
Type of iPhone or Cell Phone Camera:
Location that the photograph was taken:
Brief Description of how the image was made:
Apps applied (optional):
QUESTIONS/INFO/CONTACT
Any questions, information, or other inquires can be sent via email to Brenda Johima, Mobile Phone Photo-Art Show Instigator & Coordinator, at CUphoneart@gmail.com or she may be reached by telephone at 1.250.335.1195
Please note: Brenda will be also speaking at the festival on the topic Create Incredible Nature Photography using Your iPhone. Watch for details to come.
YOUR PARTICIPATION IS APPRECIATED!
— Brenda Johima