Oooops. I missed a couple days already, of my "blog every day" commitment to myself. I applaud those bloggers and vloggers out there who have been writing and posting daily for years on end, as it isn't easy for me to remember to do it every single day … yet.
Every day I would think about writing my post, and not get to it, think about it some more, and it would slip to the back of my mind instead with other tasks at the forefront, and then I would say "I will do it later" … and "later" zipped quickly into the next day … you know how it goes.
So I begin again today, and I am determined to get into a rhythm where posting here daily happens, because I do love it and it really is fun–as long as one writes, creates, makes photos and blogs, without any expectation of return. That's where the magic is; in creating, for the sake of being creative itself.
It is important to put yourself out there, perfect or not, or like today, as a rusty writer, who hopefully will improve with time and more practice. A tiny readership of two people makes it safe for me to write write write and post here.
So here I go again with my writing, starting at the Vancouver Island beach I was at last night:
I went for a walk on the beach with just me and my standard poodle Teddy. The lighting was glorious, the salty air was with a warm gentle breeze, the clouds in heavily textured and varied formations were layer upon layer upon layer, the deeper back you looked and the clouds seemed to show interest in me, as I had for them. I had the entire beach to myself, not one human around.
I reminded myself that all of us need to be grateful for every moment that you are in, because moments never happen again. Blink, and they are gone. We have one opportunity for a moment. That is all. Blink, and you have already moved forward into the next moment.
Sometimes while walking in nature I long for the company of others to share these beautiful moments with, but on other occasions, like last night, I only could feel gratitude that I GET to be there alone, and to experience and feel all the feelings, to see all the colours of natures palette and to feel calm, and to enjoy time with my best pal, famously known as Dr. T. (Teddy) … Dogs don't live forever as we all know, and this was one moment that I just cherished our time together. It was almost as if he was admiring the view too. Do dogs really see the view like we do? Something to research. I do not know. Whether they see it the same views we do, Teddy sure is a joy to experience it with. His contentment, relaxation and calm, were the perfect mirror for how I was feeing inside too.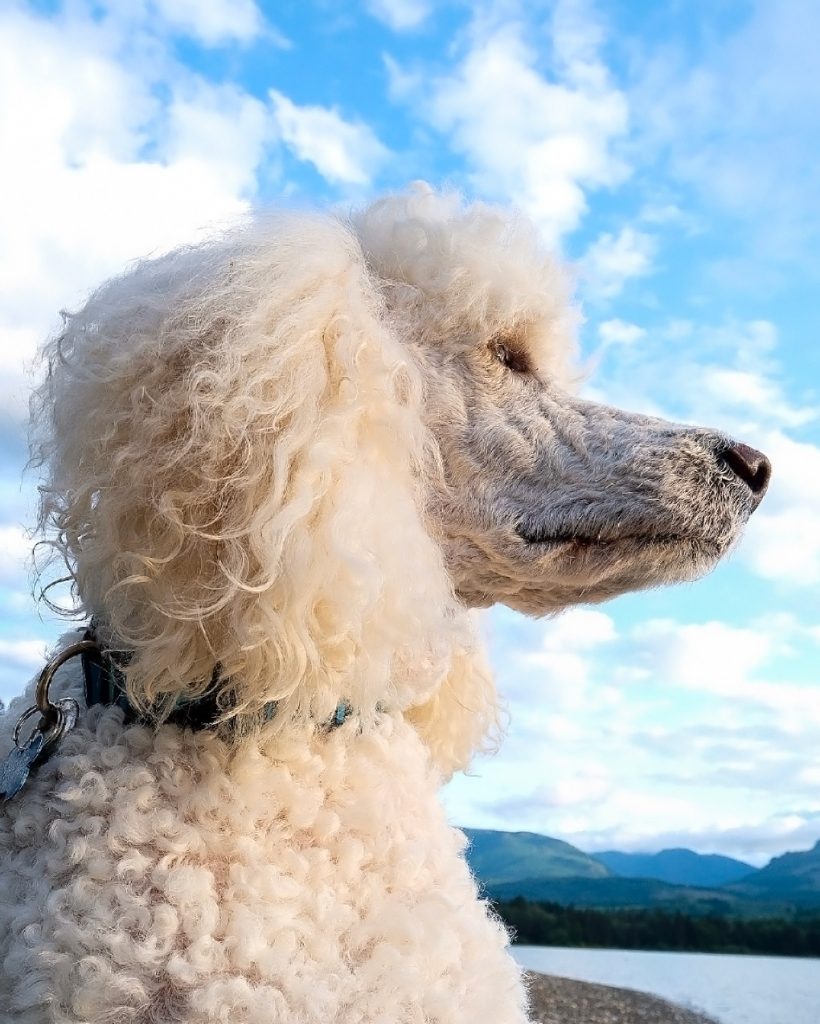 The glory of nature is there for us to soak it all in like medicine, with the power to heal and renew and refresh. We just have to get out there.
Then I went back home, dropped off the dog, and surprise, went back to the beach a second time, this time with a friend.
As I was crouched down low and as close to the waters edge as I could get, to photograph the water, the reflections and the clouds, a paddle boarder suddenly and silently emerged into my frame, way off to the far right.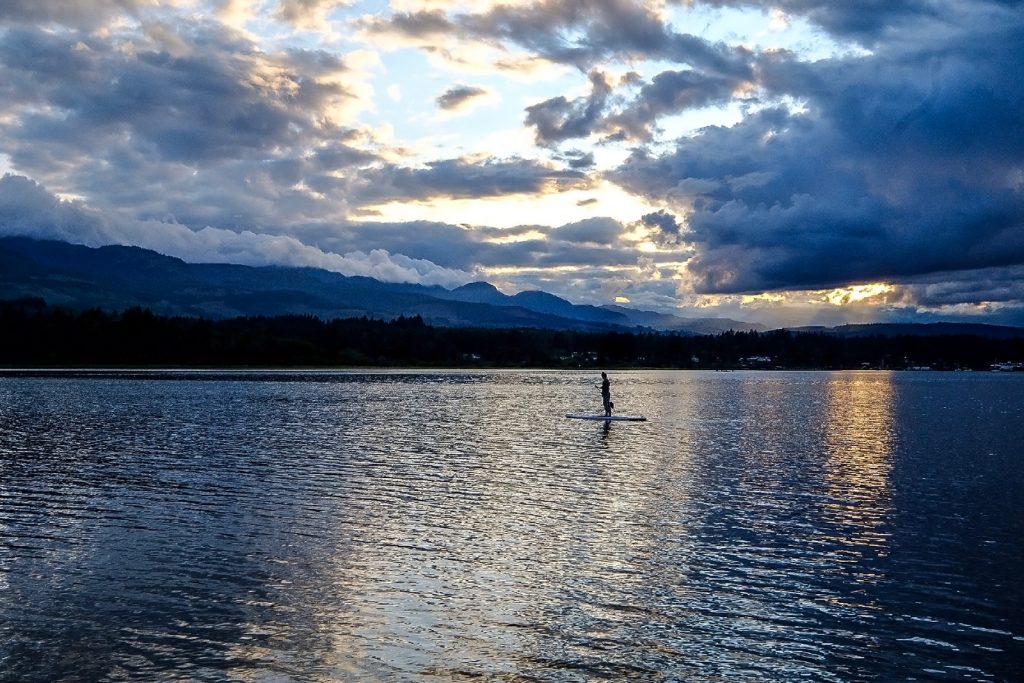 I had left the house with my wide angle lens, as that was my lens of choice for the evening, for my one-lens challenges I give myself.
But as it often happens, whenever I choose one lens, I wish I had a different one with me. These images taken on Vancouver Island are stunning indeed, and the steel chrome slate gold water could have been called liquid gold in some spots … nature is a miracle … if we slow down enough to see.
So back to camera lenses. I LOVE these photos, and had fun with my wide angle lens … AND … when the paddle boarder emerged unexpectedly, I wished for a telephoto lens with me, as I could see the photo I really wanted; with the paddle boarder right in the middle of that golden orange light, and just below the horizon. I could not achieve it with my wide angle lens from the distance that I was away.
So as a creative, do I next time bring two lenses? Not likely, as I love walking with light gear. I shall just enjoy the images that I did make, be grateful, and next time, something else will show up in my lens, a new challenge, a new gift, a new experience to see.
We cannot enjoy photography and regret what we didn't get. Only move forward, be grateful for the moment, the feelings, the energies … and to do the best visually with what we have at the moment.
Or truth be told, maybe to silently wish a teeny bit for a paddle boarder to show up on another night in the future, this time with my telephoto in hand.
/brenda